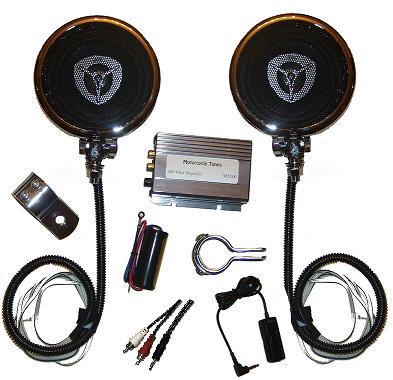 Well, I've decided that I'm getting tired of riding with little earbuds to listen to my iPod or my XM unit. I either have to make the volume so loud I can't hear the bike, or so soft, I can't hear any bass. And it makes me feel like I'm too cut off from the ambient noise of traffic around me, which makes me feel like I'm in danger of missing cues to what's going on around me.
So, tonight, I ordered the 200-watt amp/speaker setup from Motorcycle Tunes.
I know that 200 watts sound a bit like overkill, but, considering that I am on the open interstate every day, that extra wattage should allow me to listen to my tunes on the highway, and be able to turn it down a bit in town, so I'm not sharing Rage Against The Machine with everyone within a quarter mile.
The only real concern I have is where to stick the amplifier. In the 2007 bikes, the empty spot under the seat is no longer there. Instead, the ECM module takes up that space. At the moment, I'm thinking that I can put a windshield bag on, and stick the amplifier in there.
Hopefully, I'll have enough room on the handlebars to stick on a universal device mount to hold my XM unit or iPod.
The shipment is coming via UPS Ground, so it'll take a week or so to get here. I'll let you know how it sounds after I get it installed.